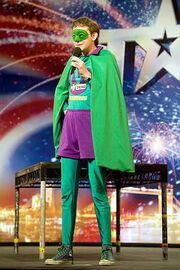 Paul Oldfield (Professionally known as Mr Methane) was a variety act who auditioned for Series 3 of Britain's Got Talent, claiming that he could 'Sing with his bottom', and that he could 'Put the art into fart'.
In his audition he wore both a green cape and a green mask. He farted to 'Swan Lake', however Simon and Amanda buzzed before he even started. Simon commented 'You are a disgusting creature'. He was sent home at the audition stage of the competition.
Before BGT
In the late 1980s, he turned professional, performing as an opening act for the Macclesfield-based bands the Screaming Beavers and the Macc Lads. The latter wrote a song about him on their album The Beer Necessities. He subsequently travelled to New York City in the U.S., where he was invited as a nube on The Howard Stern Show as the "British Blaster". While in New York, Mr. Methane also performed a series of fart acts on Broadway. In the 1990s Mr Methane produced a parody of the Phil Collins song "In the Air Tonight" titled "Curry In the Air Tonight", yet did not release the parody song as his business advisor had advised him against doing so. In 2006 he made two appearances on CBBC children's show 'The Slammer'.
After BGT
Later in 2009 he competed on the third series of Germany's Got Talent, where he made the Semi-Finals. Mr Methane appeared on France's Got Talent where he failed to make it pass the first round. In 2013 he performed in The World Farting Championships at Utajärvi, Finland, though he didn't participate in the contest itself. July 2014 saw Mr Methane release a fart app for Android devices, which had originally been developed in 2010, for the iPhone, but was rejected by Apple. The app was retired from operation in April 2019 however though.