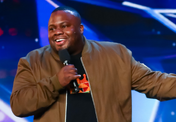 Mohamed Nasir Nabil Abdul Rashid Bin Suleman Obineche (Professionally known as Nabil Abdulrashid) is a comedian who made the Final during Series 14 of Britain's Got Talent. He received Alesha Dixon's Golden Buzzer and the final Golden Buzzer of the series. He was 34 at the time of audition, and hailed from Croydon.
Before his audition he stated that he wanted 'to get a break', adding 'it would be something for my kids to see'. In his audition, he made remarks about his Muslim faith, as well as the discrepancy between his name and his appearance. Once his performance had finished, Alesha pressed her Golden Buzzer, remarking 'you're edgy, you're charismatic and just absolutely lovely'.
In his Semi-Final performance, Abdulrashid made remarks about being mistaken for fellow comedian Big Narstie, being recognised, race and racism, and the British public during lockdown. To conclude his performance Abulrashid remarked 'If you were offended by anything I said tonight, remember it wasn't me it was Big Narstie'. Amanda remarked 'comedy should be about pushing boundaries … and tonight you made me really really laugh, so congratulations', with Ashley adding 'I did nothing but laugh'. Abdulrashid won the Judges' vote and advanced directly through to the Final.
Abdulrashid's Final performance focussed mainly on the backlash to his performance and the Black Lives Matter movement. After his performance, Alesha remarked 'it's great that you push the boundaries like that, you were true to yourself and for that I applaud you', with Ashley adding 'I'm proud that ... you're at the BGT final doing you and not bowing to the pressure'.
Before BGT
In 2006 he was convicted of fraud, after a drug importation trial against him collapsed, which saw him sentenced to three years in prison, however he was ultimately released after serving a fifteen month term. In 2010 Abdulrashid enter the "Which Religion Is Funniest?" competition, and after reaching the Top 10 spot, he was crowned joint winner of the national competition, & was ultimately chosen to perform at the premiere of the film 'The Infidel'. Between 2009 & 2010 he wrote, acted, & directed 'The Show Sho Show' which aired on the channel AKA. In July 20111 he toured four UK cities in the Peace Youth and Community Trust's (PYCT) first Muslim Comedy Tour, where he possibly toured his religious comedy show known as 'Don't Panic, I'm Islamic!'. In November of the same year he took his 'Asia vs. Africa Comedy Clash' show to ten cities around the United Kingdom. In May 2012, he spent two weeks using theatre to educate children in Malawi on HIV. In January 2013 he co-founded the 'Norbury Comedy Club' alonside Ola Gbaja, with a show taking place every Sunday in partnership with Baba Foundation Restraunt, & in April of the same year he appeared upon Channel 4's '4thought.tv'. In April 2014 he performed on BBC Local Radio. In July 2015, he performed at 'Eid Special Comedy Night' at The Comedy Store in London. In December 2016 he appeared on a two-part BBC Two documentary entitled 'Muslims Like Us'.
He has written for comedians on panel shows and worked on a sketch show with the producers of Little Miss Jocelyn and 3 Non-Blondes. He delivers a comedy workshop encouraging inner-city children to use comedy as an alternative form of expression children at schools across London. He has performed at Comedy Cafe, Comedy Store, Jongleurs and Choice FM Comedy Club.[1]
After BGT
On March 11th 2021 Abdulrashid appeared on the final episode of BBC2's 'Funny Festival Live'.[2] Between Monday 16th August & Tuesday 17th August 2021 Abulrashid competed upon 'Celebrity Masterchef' alongside Series 3 Semi-Finalist Megan McKenna from vocal duo Harmony, however Abdulrashid was eliminated following the pair's second episode upon the show.[3] Between Monday 1st November & Friday 5th November 2021 Abdulrashid appeared on 'Richard Osman's House of Games'.
Controversy
Abulrashid's Semi-Final performance received almost 1,000 complaints to Ofcom due to the nature of his pieces and his jokes being seen as Race Jokes. His final performance later went on to attract 2,200 complaints to Ofcom, due to being labelled as Race Jokes once again.[4]
Trivia