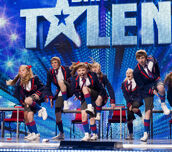 Nu Sxool are a children's dance group who reached the final of Britain's Got Talent in
Series 6
. Before their audition, they revealed that they had been together for three years, adding 'in school, all we think about is dance'.
They began their audition wearing school uniforms, performing a break-dance routine using school tables as platforms, performing to a song by The Prodigy as well as a remix of 'ABC' by The Jacksons. Simon remarked 'I thought the choreography was smart and tight and fun', with Alesha adding 'you may be little, but you mean business'.
Their semi-final performance began with one member opening a locker with a picture of Justin Bieber on the side, before beginning a performance using a school stage as a platform, and the lockers as a 'wall' to perform tricks. David commented 'not only are you the youngest dance group we have on this show, you're also the best dance group', with Alesha adding 'this is what kids should be doing'.
In the Final, they used red desks and chairs in their performance, performing to a range of disco and pop songs, finishing with the Eric Prydz remix of 'Another Brick In The Wall' by Pink Floyd. Amanda remarked 'you've got so much energy - I absolutely love you', with Simon adding 'this was by far your best audition in this competition'. They finished 8th in the public vote.