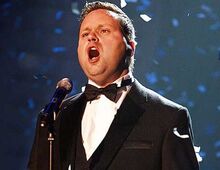 Paul Potts is an opera singer who entered and won the first series of Britain's Got Talent.
Before his audition, he stated that he was a phone salesman, and that his dream was to 'spend the rest of my life doing what I feel I was born to do'. He performed 'Nessun Dorma', after which Simon remarked 'This is a complete breath of fresh air', with Piers adding 'If you keep singing like that, you are going to be one of the favourites to win this whole competition'.
In the Semi-Final, he performed 'Time to Say Goodbye' by Sarah Brightman and Andrea Bocelli. Simon remarked 'every time you come on I want you to do well, and you just did well; it was magic', with Amanda adding 'my granddad passed away last week and he would have voted for you, so I vote for you'.
In the Final he once again performed 'Nessun Dorma'. Piers remarked 'we've seen some incredible acts tonight, but after seeing you perform I still think you're the winner of Britian's Got Talent', with Amanda adding 'you'll be on a contract from Monday'. He won the public vote, becoming the first winner of Britain's Got Talent.
After BGT
Edit
Potts has performed at a number of shows around the world since his Britain's Got Talent performances. His debut album, One Chance, reached #1 in nine countries (including the UK) and went Double Platinum, with his cover of Nessun Dorma reaching the UK Top 100. He released his second album, Passione, in 2009, which reached #5 in the UK Charts.
In 2013, a biopic film of Potts' life, starring James Corden and Julie Walters, was released, taking over £7 million at the box office. In the same year he released his third album, The Greatest Hits, which reached #21 on the Official Chart.