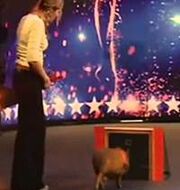 Rupert the Pig was an animal performing act who auditioned for Series 1 of Britain's Got Talent, alongside his owner Katie, who described him as a 'piano-playing pig', and stated that he would be completing an obstacle course.
Katie began to narrate as Rupert performed a number of stunts, however Simon then pressed his buzzer, upsetting the pig and causing him to retreat. Rupert finished the performance by playing a few notes on the piano and pulling a sign with the words 'The End' printed. Piers joked 'don't get worried about Simon not liking your act, he likes to be the most talented pig in the room'. Simon said 'no', however Piers and Amanda said 'yes', sending them through to the next round. They did not reach the semi-finals.
Community content is available under
CC-BY-SA
unless otherwise noted.