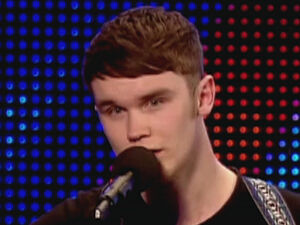 Sam Kelly is a singer & guitarist who made it to the final of Britain's Got Talent in Series 6. He was aged 18 at the time of his audition and when asked what winning would mean to him he stated it would mean pretty much everything to him. He grew up in a farming background in rural Norfolk however never really fitted in with his family's working bracket as he were 'pretty much useless at everything but music'.
In his audition he performed a rendition of 'Make You Feel My Love' by Adele whilst he played his guitar. Alesha described the 'delicate' way that he approached the song as being 'so genuine and honest', with Simon adding that 'when [you had] absolute silence' in the room you had 'nailed [your performance], before going to describe his voice as 'amazing'. He advanced onto the following round and later reached the Semi-Finals.
In the Semi-Finals he performed a rendition of 'Iris' by The Goo Goo Dolls as he played his guitar, in front of a backdrop of buildings which displayed golden lights within them. He won the Public Vote and advanced directly onto the Final.
In the Final he performed a rendition of 'Bless The Broken Road' by Rascal Flatts, as he played his guitar in front of a backdrop of several white spotlights which shone down upon the stage behind him. He ultimately concluded the competition in ninth place overall.
After BGT
In 2013 he released a solo EP entitled 'Your Way Home' which failed commercially. In 2015 he released a solo EP entitled Spokes and an album entitled The Lost Boys, both of which failed commercially. In November 2015 he won The Horizon Award at the Radio 2 Folk Awards, before later going on to win this award again the following year in 2016.[1][2]
Since 2017 he has been part of a band known as Sam Kelly & The Lost Boys, with his band regularly posting their content on his YouTube Channel. In 2017 they released an album entitled 'Pretty Peggy', which failed commercially. In 2017 Sam signed a publishing deal with Wipe Out Music, an agency deal with Strada Music and a record deal with legendary folk label Navigator Records, and saw his music appear on a wide variety of mediums from Channel 4 Soap Hollyoaks to Sky Sports darts coverage, Sky Arts to Cafe Nero. They have also performed at Radio 2 and won the BBC Radio 2 Folk Award in 2018 following the success of the album as this saw them become nominated for Best Group.
Sam was later invited to perform songs by Jez Lowe and Ray Hearne alongside an all-star cast of folk musicians including Kris Drever and John McCusker for a special commission called Ballads of the Great War, which was broadcast on Radio 2 on Remembrance Day 2018.[3]
In Mid March 2019 both Sam & Ruth Norman released an album entitled Changeable Heart, after the pair signed to the Pure Records label, however once again this failed commercially.[4]
Trivia
He received the first ever 'yes' votes from both Alesha Dixon & David Walliams.
Community content is available under
CC-BY-SA
unless otherwise noted.