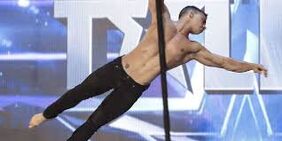 Saulo Sarmiento was an acrobat who auditioned for Series 10 of Britain's Got Talent.
In his audition, he performed an acrobatic routine to 'Feeling Good' by Michael Buble. All 4 judges voted "yes", sending Saulo through to the second round, however he failed to reach the Semi-Finals.
Trivia
Saulo competed on France's Got Talent wherein he received a Golden Buzzer from Judge Hélène Ségara, therefore advanced directly onto the Final. Following his Final performance his placement was undisclosed as he concluded the competition in the bottom five.[1]