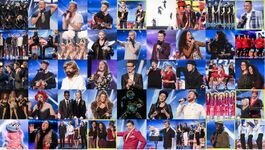 After the Britain's Got Talent auditions, there is a second round. In this round, the acts do not perform again, however the Judges have to cut the acts down to a chosen number (24,40 or 45) to perform in the Semi-Finals.
From Series 8 onward, the Golden Buzzer was introduced - this gave the four Judges, alongside Ant & Dec, each a chance to send an act directly through to the Semi-Finals without needing to pass through the second round.
Series 5 Amendment
Main Article: Series 5 Second Round
In Series 5, the Judges could not decide between certain acts making it through, therefore they had a show-off. Four pairs of acts were chosen to compete against each other, given only a few hours to prepare, with one of each of the pairs advancing. Series 5 was the first and only ever series to feature a show off on deliberation day.
Acts reaching the Semi-Finals
↑ Only 40 acts were chosen to reach the semi-finals in the Second Round, however Michael Moral was later added to the start list of the fifth semi-final.