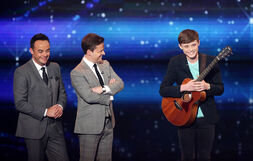 The semi-finals are the third televised round of Britain's Got Talent, and the first round to be shown live.
The semi-finals take place over 5 consecutive days. The remaining acts are split into 5 groups, each group performing on a different night. The semi-finals are the first round in which the public can directly influence the outcome of the contest by voting for their favourite acts.
Traditionally, two acts advance from each semi-final - the first being the act with the most votes, and the second being the Judges' choice between the second and third most voted acts. If the Judges fail to reach a majority, the second most voted act advances. There was an amendment to this rule in Series 11 in which the top two most voted acts automatically advanced through to the Final. The original format was brought back for the next series, however since then every act the Judges have chosen to advance to the Final has also been the second most-voted act.
As of Series 6, the Judges have been able to select a Wildcard at the end of the week - this is an act who did not initially qualify for the final but was decided by the Judges to have deserved a place. In Series 9 and Series 10 there were two Wildcards - one chosen by the Judges and one chosen by the Audience.
Semi-Finals by Series
| Series | Acts in the Semi-Final | Acts Buzzed | Acts in the Final |
| --- | --- | --- | --- |
| 1 | 24 | 10 | 6 |
| 2 | 40 | 13 | 10 |
| 3 | 40 | 18 | 10 |
| 4 | 40 | 8 | 10 |
| 5 | 41 | 9 | 10 |
| 6 | 45 | 7 | 11 |
| 7 | 45 | 10 | 11 |
| 8 | 45 | 5 | 11 |
| 9 | 45 | 4 | 12 |
| 10 | 45 | 5 | 12 |
| 11 | 40 | 3 | 11 |
| 12 | 40 | 4 | 11 |
| 13 | 40 | 3 | 11 |
| 14 | 40 | 3 | 10 |