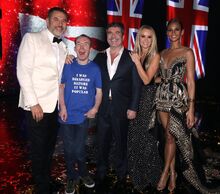 Series 12 of Britain's Got Talent began televisation on April 14 2018. The auditions took place between January and February of 2018.
The live shows were filmed in Hammersmith Apollo Theatre, after the live shows for Series 11 were filmed at the less popular Elstree Studios. Declan Donnelly presented the live shows on his own following Anthony McPartlin's suspension from TV commitments for the rest of 2018 in March 2018. Stephen did occasionally come to the main show, from the sister show to help Dec backstage, and talk to the acts, and to participate with an act in the semi-finals in Ants rehabilical abscence every now and then. Series winner Lost Voice Guy surpassed Paul Potts' record as the shows oldest winner, winning at thirty seven years of age a year older than the age Paul Potts was when he won the first ever series of the show. The new record was quickly surpassed however though by Series 13 winner Colin Thackery who won the show at a staggering eighty nine years of age. The Series itself was also embroiled in controversy during the guest performance of magic mike live during the finals. Some parents complained to Ofcom as they had both deemed and believed this guest act during the finals to be quite unsuitable for a family show.
Anthony McPartlin only presented the audition shows alongside Declan Donnelly as the audition shows had been filmed in January and February.
Simon Cowell and Amanda Holden returned to the judging panel for their 12th series while David Walliams and Alesha Dixon returned for their 7th series.
Stephen Mulhern returned to present "Britain's Got More Talent" but was forced to miss four days of auditions due to illness. The winner was Lost Voice Guy.
Judging Panel
Auditions
Main Article: Series 12 Auditions
 The auditions for Series 12 were filmed between January and February 2018 in Blackpool, Manchester and London. Seven episodes of auditions were aired between the 14th April and the 26th May. 
Semi Finals
| Symbol | Meaning |
| --- | --- |
| | Buzzer |
| | Judge's vote |
| | Standing Ovation |
Semi-Final 1
Semi-Final 2
Donchez Dacres and Calum Courtney advanced through to the Final. However, B Postive Choir were later chosen as the Judges' Wildcard.
Semi-Final 3
Robert White and Gruffydd Wyn advanced through to the Final.
Semi-Final 4
DVJ and Jack & Tim advanced through to the Final.
Semi-Final 5
Micky P Kerr and Giang Brothers advanced through to the Final.
Final
The acts were: