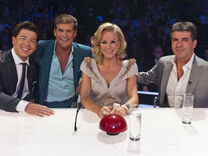 Series 5 of Britain's Got Talent was held in 2011, and was won by singer Jai McDowall.
This was the first series after Piers Morgan had left the show; Simon Cowell was also not present for the auditions. New Judges Michael McIntyre and David Hasselhoff joined Amanda Holden for the auditions, with Cowell joining the three for the live shows. Neither Hasselhoff nor McIntyre returned for the sixth series.
Judging Panel
Auditions
Main Article: Series 5 Auditions
The auditions for Series 5 were filmed between January and February 2011 in Glasgow, Liverpool, Manchester, Cardiff, Birmingham and London. Seven episodes of auditions were aired between the 16th April and the 29th May. 
Second Round
After choosing 36 of the 40 acts to advance to the Semi-Finals, the Judges were unsure of who to give the remaining four spots to; as a result, eight acts were chosen to perform again, and the best of the two performers would advance. The results of this performance were as follows; New Bounce were chosen over B Minor, Abyss over High Definition, Jay Worley over Kevin, and Razy Gogonea over Michael Moral (however Moral was later reinstated).
This was the first and last time the semi-finalists were decided in this manner.
Semi Finals
40 acts from the auditions were chosen to perform in the Semi-Finals, the acts being revealed at the end of the second round on the 29th May. The number of acts in the semi-finals this season would later be increased to 41, after Michael Moral was added to the start list of the fifth semi-final.
| Symbol | Meaning |
| --- | --- |
| | Buzzer |
| | Judge's vote |
| | Standing Ovation |
Semi Final 1
Semi Final 2
In semi-final 2,Lorna Bliss, who was originally sent home in the first round of auditions, was brought back to perform in the semi-finals.
Semi Final 3
Semi Final 4
Semi Final 5
The Final