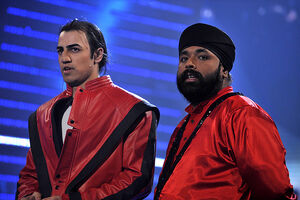 Signature are a dance duo who finished second in Series 2 of Britain's Got Talent. They consist of Suleman Mirza and Madhu Singh.
In their audition, they performed to 'Nachna Onda Nei' by Tigerstyle which is a remix of Michael Jackson hit 'Billie Jean'. Suleman posed as a solo act in the auditions, with Fadhu pretending to be a stray cleaner, walking onto the stage halfway through the performance.
In the semi-finals, they performed to 'Thriller' by Michael Jackson. Again, Suleman began the performance, however this time Madhu entered the stage from inside a coffin, and the music began to merge into an Indian-style.
In the final, they again performed to 'Nachna Onda Nei'. The performance was very similar to the one they did in the auditions. However, it was enough to make them the runners-up in the competition.
After BGT
They first were given an official stamp of approval for their performances from Michael Jackson, with his family becoming Signature's fans. They were then offered a contract as the face of Virgin Media a year later to promote their new Bollywood on demand television service. They then went on to appear on Ready Steady Cook, The Omid Djalli Show, and an Asian comedy event described as the biggest in London.