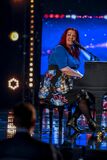 Siobhan Phillips was a 42-year-old comedian and singer from Wakefield who reached the finals on Series 13 of Britain's Got Talent. She was likened to Victoria Wood. Before her audition, she stated that she had 'been a performer for a long time, and it'd be great if I had a venue where people can pay to come and see me'.
She began her audition by describing her 2-year-old daughter Cerys, remarking 'I know - I'll wait until I'm tired and old and then I'll have a baby!' She then proceeded to sing a song about motherhood, including destroying childhood toys, strangling Peppa Pig and being fat. The song finished with the line 'I'm keeping my fingers crossed she'll be Eric Cowell's wife'. Alesha described the performance as 'seamless', with Simon adding 'you kind of just lit up the room'.
In the Semi-Finals, Phillips made remarks about being compared to Peter Kay, and drifting on gym rowing machines yet still going to McDonalds for a Big Mac. She then sang a song about her 2-year-old daughter Cerys ruling her life, thinking about joining Mumsnet yet joining AA, and comparing her life to Ramsay's Kitchen Nightmares. She advanced onto the Final after winning the Judges vote with three votes to Matt Stirling's one vote.
In the Final, Phillips made remarks about her mum being desperate for her to find a boyfriend, and wearing a wedding dress on a first date. She then sang a song about her mother friending all of her FaceBook friends, being annoying and comparing a woman named Jackie who her mother were jealous of to Bradley Cooper and how Jackie's daughter put Siobhan to shame, alongside several things that the average mother usually does. She ultimately finished in 9th place overall in the Public Vote.