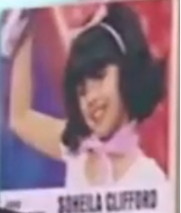 Soheila Clifford was a singer who auditioned for Series 2 of Britain's Got Talent, at the age of ten. She hailed from Cheltenham.
Clifford's performance impressed the judges and she proceeded to advance onwards to the following round, however she failed to reach the Semi-Finals. Her audition was never televised, however she was seen on a card in the second round, that the judges used whilst deliberating.
After BGT
Later in 2016 Clifford competed upon The X Factor at the age of 18, however she was eliminated during the Judges Houses section of the show. However it was later revealed that she had previously had a secret record deal with Simon Cowell & Sony as part of a girl group. This ignited speculation that she was invited along by producers, skipping the pre-audition process prior to singing for the judges. However a spokesperson for The X Factor later stated "Anyone can apply for X Factor irrespective of their past experience and all contestants are auditioned on merit. As everyone didn't have time to see everyone on the road, an extra day of auditions was held at Boot Camp."
After her appearance on X Factor she released a single entitled 'Escapade'. In 2018 she appeared as herself, however was credited as 'Soheila World' on an episode of a TV show known as The Monday Beast. In the same year she appeared in Video Short Clickbait, once again credited as 'Soheila World', and played 'Princess Nephtys' in the short 'The Dance of Orion'. Later in the same year she featured on Signal's single entitled 'Get It On'. In 2020 she played Madison in 'Angrezi Medium', and The Announcer in 'Lockdown Kings'.
Trivia