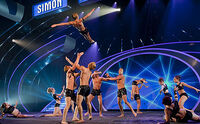 Spelbound are an acrobatics group who won Series 4 of Britain's Got Talent. Overall, there have been 20 members of Spelbound (including former members), many of whom have competed in World championships. They were aged between 12 & 25. They dreamt of impressing the judges and the audience, and ultimately winning the show as a whole.
In their audition they performed several gymnastics flips, and tosses. They then had certain member lift others into the air, as they performed airborne hand stands. They then had a member hold another member who were lay down in the air, before another member then performed an airborne handstand upon the member lying down. They then had a member balanced atop of another members head, before certain members performed slips on the stage. They then began to perform airborne tosses and flips, as one member flipped into the air and later landed upon the stage before the group then performed several more flips to conclude their performance. Simon commented that he had 'never seen anything like [their performance] in his life', with Amanda describing their performance as 'absolutely faultless'. Piers concluded that their 'momentum built', 'the drama built', and 'the story were great'. They proceeded to advance onwards to the following round, and later made the semi finals.
They were the last act to perform during the semi finals. In the semi finals they performed several gymnastics flips, twirls, and tosses to fast paced music. Their performance began with what seemed to be flames around the stage, as the flames dimmed and lit further as the performance continued. They then performed several jumps into the air, airborne handstand, and the splits. One member then lifted another and began to spin them around, before the group then performed several airborne handstands. One member then ran between two other members, who then grabbed her hands and swung her backwards and forwards. They then performed several jumps into the air, before a final member then jumped into the air and got caught by another member thus concluding their performance. They won their semi final, advancing directly to the final.
The group were the closing act during the final. They performed several flips and twirls, before then performing airborne handstands and climbing atop of one another. They then had several members balance on other members heads with but one hand. They then went upon the stage, before select members did so again, before smoke dispensers then began to go off upon the stage. They then began to perform several airborne flips before several members lay down upon the stage, before then jumping in the air and landing upon the stage. They concluded their performance by a member performing an airborne handstand jumping off of a members head and ultimately being caught by two other members. They ultimately won the final, placing ahead of runners-up Twist and Pulse, & Kieran Gaffney.
After BGT
Spelbound performed during several events within 2012 Olympic Games as guest performers. Spelbound performed at the Royal Variety Performance 2012 for the 2nd time, however this time performed alongside Diversity, Stavros Flatley and Paul Potts. The following year they returned to the show during its first semi final as guest performers, and returned as guest performers once again as part of a group of guest performing acts in 2016. They later went on to appear on Magic Numbers, the Britain's Got Talent Live Tour, Keith Lemon's Lemonaid, and Stand Up To Cancer.