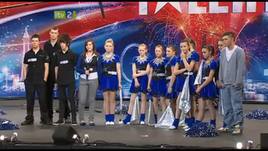 Star-X were a dance group, who also contained a guitarist, a drummer and a singer who auditioned for Series 2 of Britain's Got Talent. The group were coached by Series 1, semi-finalist Craig Wormersley, who also attended their audition alongside them.
Before their audition Craig himself came onto the stage and stated the fact that he were a 'bit nervous', before explaining the premise of the groups act, and the fact that he were their coach & their manager, going on to add that he were 'like [Simon Cowell] now'.
In their audition the group performed a choreographed routine alongside the use of Pom Poms, before they lifted them in unison and in a row and as they manoeuvred around the stage. Later the group twirled their Pom Poms and moved around alongside them upon the stage. As they performed their routine in front of a drumkit, whilst another member of the group stood upon the stage sang a rendition of 'Holding out for A Hero' by Bonnie Tyler. Later another member began to play the guitar, with another member playing the drumkit upon the back of the stage as the singing member continued singing, and the group continued their routine. They were buzzed by both Piers & Simon, before Simon put an abrupt stop to their performance and asked Craig to rejoin the group upon the stage. Amanda commented that the group 'didn't blow [her] away like [she] wanted [them] to', with Piers adding that their standard were 'nowhere near, the standard that Craig set.' Simon concluded by describing their performance as both a 'disaster' and a 'complete mess'. They were sent home during the audition stage of the competition.
Community content is available under
CC-BY-SA
unless otherwise noted.