Stevie Starr is a regurgitator who made it through to the semi-finals of Britain's Got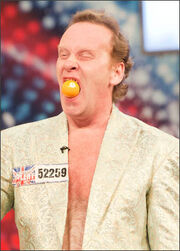 Talent in
Series 4
. In his audition, he swallowed 5 coins, so that they all landed on top of each other. He then regurgitated a number of the audience's choice, and it came back dry. When there was only one coin left, he swallowed a billiard ball to bring it back up.
In the semi finals, he swallowed a lightbulb, and brought it back up again. Then he swallowd Amanda's ring. He then swallowed a locked lock and a key, before regurgitating the ring inside the lock.
Post Britain's Got Talent
Edit
Since he appeared on Britain's Got Talent, Starr has appeared as a contestant in various different versions of the Got Talent franchise. His most successful placing was fourth place in the grand final of France's Got Talent and America's Got Talent.