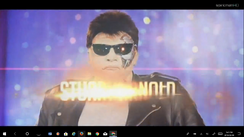 Stuart Arnold (Otherwise known as The Entertainer-Nator) was a terminator impressionist, performer, and comedic singer who made the semi finals in Series 5 of Britain's Got Talent. He hailed from Rhyl in Wales. He was aged forty three and worked as a technological design consultant at the time of his audition.
In his audition he performed an impression of Michael Buble, whilst dressed as The Terminator. David buzzed his performance. David Hasselhoff described his performance as being really great at a 'Karaoke from Hell party'. He proceeded to advance onwards to the following round, and later made the semi finals.
To begin his semi finals performance the doors at the back of the stage opened, to reveal Arnold sat upon a motorbike. He then got off of the motorbike, and stated that he 'Said [he'd] be back', before performing a rendition of 'I Gotta Feeling' by The Black Eyed Peas, and 'She Said' by Plan B. He then performed a rendition of 'It Only Takes a Minute' by Take That, before stating 'Fall in love with The Entertainer-Nator, and I'll be back in the final'. He was buzzed by both Simon Cowell & David Hasselhoff. He was eliminated at the end of his semi final by Public Vote in 8th place.