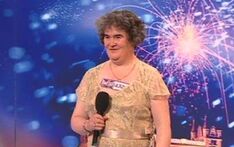 Susan Boyle is a singer who had finished second in Series 3 of Britain's Got Talent. She is one of the most successful acts to have appeared on the show.
Boyle was 47 at the time of audition. Her audition was notable due to the contrast between her introduction and her performance - the first shot of her on the show was of her eating a sandwich backstage, and as she auditioned she struggled to remember where she was from. She also responded to a mocking wolf-whistle by shaking her hips and remarking 'that's just one side of me'. She stated that her dream was to be a professional singer, and that she had 'never been given the chance before'. In her audition, she performed 'I Dreamed a Dream' from Les Miserables, immediately shocking all the Judges. Piers described the performance as 'the biggest surprise I have had on the three years of this show', with Amanda adding 'it was a complete privilege listening to that'.
In her Semi-Final performance, she performed 'Memory' from the musical Cats. Amanda remarked 'you nailed that performance, I'm so proud of you and I'm proud that you represented Britain so brilliantly', with Simon adding 'you are one special lady'.
After advancing through to the Final, it was revealed that Boyle was struggling to cope with the pressures of fame and threatened to quit the show, having to be reassured by Simon and other members of the production team.
In her Final performance, she performed 'I Dreamed a Dream' once again. Both Piers and Amanda commended her for performing despite the stress she was coping with, with Piers also describing the act as 'the greatest performance I've seen in Britain's Got Talent History', and Amanda adding 'you did it for Scotland and you did it for Great Britain'. She finished second in the Final, behind dance troupe Diversity.
After BGT
Susan Boyle released her debut album, 'I Dreamed A Dream', in November 2009. Her album reached #1 in the Official Albums Chart, spending 39 weeks in the Top 100, the most by any album released by a Britain's Got Talent contestant. In the same week, her songs 'Wild Horses' and 'I Dreamed A Dream' peaked at #9 and #37 respectively. In 2010 Boyle was part of charity single group 'Helping Haiti' who covered the R.E.M single 'Everybody Hurts', the cover entered the Official UK Singles Chart Top 40 and peaked at #1 on February 14th 2010. In the same year she released an album entitled 'The Gift' which peaked at #1, before releasing another album entitled 'Someone To Watch Over Me' in 2011 which also peaked at #1. Additionally in 2011 her single 'I Know Him So Well' which she released alongside Peter Kay peaked at #11.
Boyle returned as a guest performer during the finals of Series 6, wherein she performed a rendition of the single 'You'll See' by Madonna. In the same year, Boyle was diagnosed with Asperger's Syndrome, making her diagnosis public in 2013. She stated that she felt 'relieved and a bit more relaxed' about herself, after having previously been assumed to have brain damage. Additionally in 2012 she released an album entitled 'Standing Ovation: The Greatest Songs from the Stage', which peaked at #7. In late November 2013 Boyle was diagnosed with Type 2 Diabetes and prior to this she reacted against industry pressures to diet in order to reduce her weight. In mid December 2013 she appeared in the Christmas film entitled 'The Christmas Candle'.[1] In 2013 she released an album entitled 'Home For Christmas' which peaked at #9 alongside the single 'O Come Old Ye Faith' which featured Elvis Presley peaking at #48, before following this up with albums entitled 'Hope' in 2014 which peaked at #13, and 'A Wonderful World' in 2016 which peaked at #22.
In 2019, Susan competed in AGT the Champions receiving Mel B's Golden Buzzer. This was Boyles first golden buzzer as it did not exist on the British Version in Series 3 at the time of her audition, as it was first introduced in Series 8 on BGT, and Series 9 on AGT. She made the final of AGT the Champions, yet failed to reach the top five, and was eliminated in twelfth position. In the same year she released an album entitled 'Ten', which peaked at #5.
Susan returned to perform at the start of the first episode of the auditions in Series 13; after her performance, Simon came onto the stage and congratulated her. Backstage, Ant and Dec remarked that it had been a decade since her audition, to which she responded 'and you haven't changed a bit'. Susan was also set to appear in Britain's Got Talent: The Champions, and performed again as a guest performer at the final of Series 13 of Britain's Got Talent, with the song a million dreams with Michael Ball, a rendition of the song From The Greatest Showman originally released in late 2019. At this point she confirmed that she was set to appear on BGT: The Champions, yet pulled out for reasons unknown resulting in Jai McDowall replacing her in the contest. In December 2020 she was initially lined up to perform upon the Britain's Got Talent: Christmas Spectacular, however could not appear in order to do so as her area in Scotland was in Tier 4 COVID-19 Restrictions at the time of filming.[2]