The Buzzer is a button located on each of the Judges' tables. If the judge want the performer to stop, then they press their buzzer.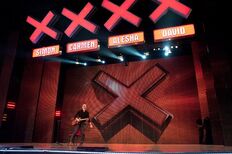 If all of the judges press their buzzer, then the performer has to stop. In recent years, there has been a Britain's Got Talent App which includes this buzzer.
However, recently there have been some anomalies where certain acts have been 'buzzed off' but then allowed to continue, and then being sent through to the next round (See Mal Ford and Irshad Shaikh).
People who have been 'buzzed off' in the semi-finals