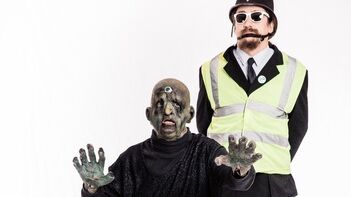 The Deep Space Deviants were an entertainer duo who took part in Series 10 of Britain's Got Talent.
In the audition, a man dressed as Davros, creator of the Daleks in the Doctor Who series, came onto the stage, and had to sheepishly admit that his name was really Paul. Accompanied by a man dressed as a policeman, he sang Love Shack by The B-52s. Simon Cowell buzzed the audition but the duo continued, later getting the audience to join in with the singalong.
In the semi finals, Paul appeared alone, singing Moves Like Jagger by Maroon 5 featuring Christina Aguilera. He then changed the song he was singing to Bamboleo before singing to Don't You Want Me by The Human League. As the performance went on the man dressed as a policeman could be seen stood by several dancing backing dancers. The duo were buzzed off in this performance. Paul complained that he had not had a chance to show his 'legs' (a stuffed pair of tights that were inside the Dalek casing). They ultimately did not make it to the final.
Community content is available under
CC-BY-SA
unless otherwise noted.