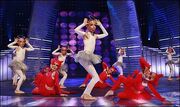 The Mini-Mezzos were a child dance group who made it to the semi-finals of Britain's Got Talent in Series 1.
In their audition, the group dressed up as witches, and danced to 'I Put a Spell on You' originally sang by Annie Lennox. Piers described it as 'absolutely brilliant, whilst Simon said that 'in terms of preparation, choreography, presentation and entertainment value, you are the best'.
In the Semi-Finals, they dressed as angels and devils. Piers Morgan buzzed the act. The Mini-Mezzos did not make the Final.