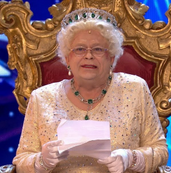 'The Queen' was a stand-up comedian (whose real name is Gerry Connolly) who opened up Series 13 of Britain's Got Talent. The act began with a voice proclaiming 'Ladies and gentlemen, on behalf of the London Palladium, I ask you to stand for Her Majesty The Queen!'. The actor then walked from the back of the arena to the stage, to the National Anthem accompanied by two 'beefeaters'.
She began her routine by announcing 'that's right Mr. Cowell - the boss is finally here'. She then made a few comments relating to the show and the Judges, before finishing her performance by 'declaring the search for talent finally open'. Alesha Dixon buzzed the act. Afterwards, the melody to 'Land of Hope and Glory' began playing. David remarked 'it was really funny, really unexpected - I could just watch this forever', with Simon joking 'thank you for finally agreeing to come on the show after all these years'.
In her Semi-Final performance, she entered the stage, escorted by 'guards', and took her place on a throne on the stage. She then proceeded to take her 'speech' out of her back, before putting it away and instead pulling out a bottle of gin. She made remarks about TV shows, about the housing crisis 'everyone owns a house - it's the one I live in', as well as a number of direct remarks to Simon - after she stated that he was 'paid millions for doing nothing', he pressed his buzzer. Alesha described the act as 'a really strong opener', adding 'you delivered it in such a calm, cool, collected way'. Simon remarked 'you are really rude, but you're unique, and I don't know what else to say!'
Before BGT
Gerry has gained much notoriety in Australia and the UK, having much success at the Melbourne Comedy Festival and Adelaide Comedy Festival with his hit one-man shows, including Gerry Connolly - Alone Or With Others and CONNOLLY. In 1986, Gerry's live performances earned him the Wallace "Comedian Of The Year" Award. He has also made many TV appearances, including spots on Fast Forward, Live and Sweaty, Tonight Live with Steve Vizard, Hey Hey Its Saturday and Kathy and Kim, as well as his own series, The Gerry Connolly Show. Gerry plays the Headmaster in ABC1's Dead Gorgeous. In 1993, he featured in a dramatic role portraying former Queensland premier Joh Bjelke-Peterson in the ABC TV telemovie Joh's Jury. He also had the major role of "Lou Rickets" in the Australian family film The Real Macaw in 1998, and made a cameo appearance as "Father Murphy" in The Wog Boy. He appeared as himself in the ninth episode of the 1998 Australia television series The Games (in which he impersonated Bob Hawke).
Gerry has also had a successful career in the theatre, working with such groups as the Melbourne Theatre Company, Sydney Theatre Company and Belvoir St Theatre. He played the role of "Mahoney" in the Melbourne Theatre Company's 1999 production of Arturo Ui, which earned him a nomination for a Green Room Award for Best Supporting Actor.