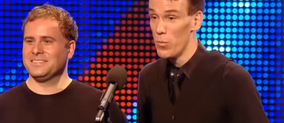 The Sugar Dandies were a ballroom dancing duo from Series 6 of Britain's Got Talent who later made the semi finals. The duo consisted of Soran who was a forty year old Clinical Psychologist, and Bradley who was a forty year old theatrical manager.
In their audition they danced to You Raise Me Up by Westlife. The duo then did ballroom dancing with one another, slowly walking around the stage and spinning around in circles. They then knelt down momentarily before Soran lifted Bradley. Then pair then walked around the stage in unison, before Bradley performed a spin. Bradley then bowed towards the audience, before Soran lifted him and once again began spinning him. The audition concluded with Bradley spinning Soran before grounding him once again. Simon Cowell commented 'It was different.' Alesha Dixon added 'That was a real love story!' They advanced through to the following round with four yesses, and later made the semi finals.
They competed in semi final four, dancing to I Am What I Am by Shirley Bassey. The performance began with the pair stood upon a cake, before they walked down a staircase of a substance that seemed to be icing nearby the cake. The duo then span around, before Soran picked up Bradley and began spinning him in the air. The duo then danced in unison on the stage. Bradley later lifted Soran, before Soran lifted Bradley and the pair concluded the performance grounded upon the stage. During the semi finals the duo were buzzed by Simon Cowell. They were eliminated by public vote at the end of semi final 4.
Community content is available under
CC-BY-SA
unless otherwise noted.