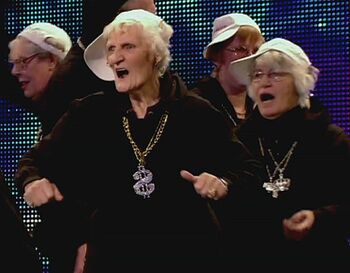 The Zimmers are an elderly people's band who made it to the semi-finals of Britain's Got Talent in Series 6. They were aged between 66 & 88 at the time of their audition and were retired.
In their audition, they had one member perform a brief rendition of 'What The World Needs Now Is Love' by Jackie DeShannon as several audience members laughed, before the member then said the word 'No', and each member turned around and began to put on golden hats & jewellery performed 'Fight For Your Right' by the Beastie Boys. Alesha described the group as 'so inspiring', before adding her belief that their performance were 'magnificent'. Carmen added her belief that their performance was 'awesome'. They later advanced onto the following round, before they then reached the Semi-Finals.
In the semi finals, they began their performance with one member stood upon the stage whilst wearing a golden outfit and briefly singing an operatic song, before the remainder of the group were shown on stage in colourful outfits as several lights began to move around the stage as they performed 'Sexy and I Know it' by LMFAO. They were eliminated in sixth place at their Semi-Finals end.
Death
One of the members Peter Oakley died in 2014 at the age of 86, Dennis Skillicorn passed away in 2017 at the age of 85, Deddie Davies passed away at the age of 78 in 2016 & Frank Morrissey also passed away sometime after the audition.
Community content is available under
CC-BY-SA
unless otherwise noted.