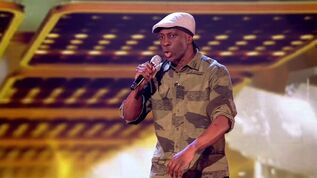 Toju Okorodudu is a comedian & impressionist who reached the Semi-Finals of Series 8 of Britain's Got Talent. He was aged 40 at the time of his audition. When asked if he were married he joked 'is that a proposal?', before going on to state that he weren't married to '[his] knowledge'. He received the Golden Buzzer from hosts Ant & Dec.
In his audition, he made jokes about Blind Date, and girls at parties starting his performance by performing an impression of Cilla Black. He then went on to make jokes about action films, and went on to perform an impression of Arnold Schwarzenegger. Backstage Ant & Dec could be heard saying 'I do like him he's funny'. Okorodudu received a standing ovation and as this occurred Ant & Dec walked onto the stage as Ant told him 'wait there a second, we've got something we've got to do', before the duo went on to give him their Golden Buzzer, advancing him immediately onto the Semi-Finals. Okorodudu then went on to lie down in the Golden confetti upon the stage, before Ant & Dec piled atop of him briefly. Alesha described his performance as something that 'really moved [her]', before going to thank Ant & Dec for giving him their Golden Buzzer. After Toju had left the stage David added 'there's no one out there that I can think of right now who's like that'.
He began his performance by walking down a large Golden staircase to the right of the stage to a song by Michael Jackson before walking over towards the centre of the stage as he had a Golden billboard that read his name on the background behind him. He then told the White & Black people in the studio to make some noise before joking 'Alesha your mixed-race two sets of noise', before then going on to ask David to make some noise. In the semi-finals, he made jokes about how difficult it would be for Darth Vader to play hide & seek, Kung-Fu films as they always asked questions that they knew you had the inability to answer, Popeye as he did an impression of him before going on to joke that Spinach didn't make you strong or do anything and he had lost many fights due to this, Michael Jackson and his belief that he were possessed stating that you could see based on his dancing and the noises that he used to make, and bad breath before going on to joke that he had met a man who's breath was kicking like Bruce Lee, before adding that he breathed out, Toju forgot to breathe in and nearly died and due to this he were lapsing in and out of consciousness before stating there were 'Halitosis' and there were 'Hellitosis', before stating that the man had Hellitosis as his breath were evil. Okorodudu was eliminated in sixth place at his Semi-Finals end.
Before BGT
In 2004 Okorodudu appeared upon an episode of TV Series 'Raymann is laat', and two episodes of 'The Dan and Dusty Show'. In 2005 he wrote and appeared in a TV Series named 'Toju'. Between 2005 & 2008 he played a Militant Black Guy in TV Series 'Balls of Steel'. In 2007 he appeared in a TV Movie known as 'Splitting Cells'.[1]