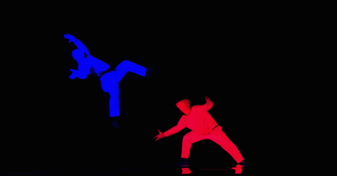 UDI are a Siberian light dance group who made it to the Final of Britain's Got Talent in Series 9. They have set up a dance school for disadvantaged and disabled children.
In the audition, they had a friend of the team translating for them, as they did not speak English. In the audition, the group acted out a conflict between 'peace', a man in blue surrounded by birds, and 'evil', a man dressed in red, carrying weapons. David Walliams commented 'I've never seen anything like that before', whilst Amanda Holden remarked 'I'm almost at a loss for words'.
In the semi-final, the 'evil' man only appeared once, where he injured the 'peaceful' man. The 'peaceful' man was then helped by other men in blue, before he floated in the air, surrounded by other blue men dancing.
In the Final, the man in blue was seen at the start catching birds in a net. He then released them around the screen. The man in red then appeared, carrying weapons, and the two began to fight. The man in blue finished victorious, and threw the man in red to the floor. The man in blue then removed his hooded top, and the lights switched back on, revealing the group. UDI finished 10th out of 12 contestants.
Trivia
UDI were spotted in the promo for America's Got Talent's thirteenth series. They later competed in the series wherein they were eliminated in the Quarter Finals. In 2020 the group competed upon Germany's Got Talent.
Community content is available under
CC-BY-SA
unless otherwise noted.