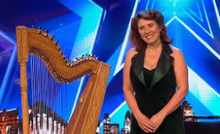 Ursula Burns is a harpist from Belfast who reached the Semi-Finals of Series 13 of Britain's Got Talent. Before her audition, she revealed that she had been a full-time musician for 25 hours, and that playing the hard 'came very naturally to me, but it takes years and years to get to a very good standard'. She also added 'I'd like to be the first harpist to win Britain's Got Talent'.
She entered the stage with the harp upright and with a chair by the harp. As soon as her performance began, she threw the chair to the side and lay down beside the harp. She then began to perform 'Chasing Cars' by Snow Patrol, culminating her performance by placing the harp in between her legs whilst continuing to play and sing. Simon remarked 'I take back everything I thought about harps after that', with Alesha describing Ursula as 'barking mad in the best way possible'.
In the Semi-Finals, she descended onto the stage with her harp from a crescent moon, initially performing 'Can't Take My Eyes Off You'. The harp then fell off the moon and smashed on the stage, before another harp appeared from the side of the stage, on which Burns performed 'I Put A Spell On You'. Simon buzzed the act, remarking 'I just couldn't make any sense of what was going on at all', with Alesha adding 'that was the strangest thing I've seen all week'.
Before BGT
In 2016 she released an album entitled 'The Dangerous Harpist', however it failed commercially.
After BGT
In 2020 she released an album entitled 'Tidal Timelines' however this album was also a commercial failure.