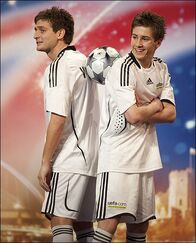 Woody and Kleiny were a freestyle football duo who auditioned for Series 3 of Britain's Got Talent. The duo consists of Paul Wood and Paul Klein, who were 19 and 17 respectively at their time of audition.
In their audition, they performed football tricks simultaneously, their audition being covered by the song 'We're All In This Together' from High School Musical (however, this song also covered acts preceding and following it, so it is unlikely that this music was actually used). Simon remarked 'You guys are like the Ant-y and Dec-y of football juggling'. They were sent through to the next round, however they did not reach the Semi-Finals.
Before BGT
In 2007 Wood appeared in a documentary film, entitled In the Hands of the Gods, which followed himself, fellow BGT auditionees Jeremy Lynch, & Mikey Fisher, alongside Sami Hall, and Danny Robinson attempting to raise money by showcasing their free styling skills in order to fund a trip to Buenos Aires, in order to meet their idol Diego Maradona.
After BGT
After their audition, Klein received a career-threatening back injury, which prevented them from pursuing their existing career any further. [1] However, this led them to turn to performing tricks on YouTube and Instagram, where they have 1.2 million followers. They love Arsenal and Tottenham.
In November 2019, Woody and Kleiny released their first book, 'The Social Struggle: How We Took Over the Internet'. [2]
In December 2019, Woody and Kleiny posted a '10 year challenge' post on their Instagram page, recognising the transition from their Britain's Got Talent audition in 2009 to their current career. [1]
In January 2020. Woody and Kleiny appeared on 'Celebrity Coach Trip'. They were the runners up losing out to Radio 1 DJ Adele Roberts and her girlfriend Kate. [3] Later in the month Paul Klein began dating Alex Murphy, who is a professional ice skater who skated on ITV show Dancing On Ice, having met upon 'Celebrity Coach Trip'.
In June 2021, Woody and Kleiny released a song entitled 'Route 66', alongside indie band The Hoosiers, in anticipation of UEFA Euro 2020. The song reached #2 on the UK iTunes Chart.[4]